I was browsing the
Empty Bottle's website
for a while today. They have an absolute crap-ton of great shows coming up this Spring. I'd consider going to any of the shows posted below, but if y'all see anything on their website which you'd want to attend (and which I haven't posted below) lemme know.
So going in chronological order:
THURSDAY FEBRUARY 24
DUM DUM GIRLS (great lo-fi garage pop)
MINKS (dunno)
DIRTY BEACHES (dunno)
THURSDAY MARCH 17
Sic Alps (wispy minimal pop rock)
CAVE (I remembered these guys being riff-heavy stonermetalish, but everything I looked for just now sounds like peppy dance rock)
Wet Hair (lounge-ish weirdness from Iowa City, which means they must be good)
CAVE's myspace
SATURDAY MARCH 26
THE RESIDENTS (at the Contemporary Art Center)
(legendary all-purpose offensive weirdo art collective whom I can't do justice for in a brief blurb; just browse their
wiki
for highlights. I can't imagine this being anything besides mind blowing)
e.g., the video after this link:
Youtube wasn't posted in this entry because the preview stillframe wasn't really safe for work/public computers
Browse through their youtubes and you'd get a general feeling of what you'd be in for.
SATURDAY APRIL 2 (at Logan Sq. Auditorium)
LIGHTNING BOLT (spastic noise-punk bass and drum duo; they play every show on the floor)
Here's a picture of them playing live from their website. Find the MUP2!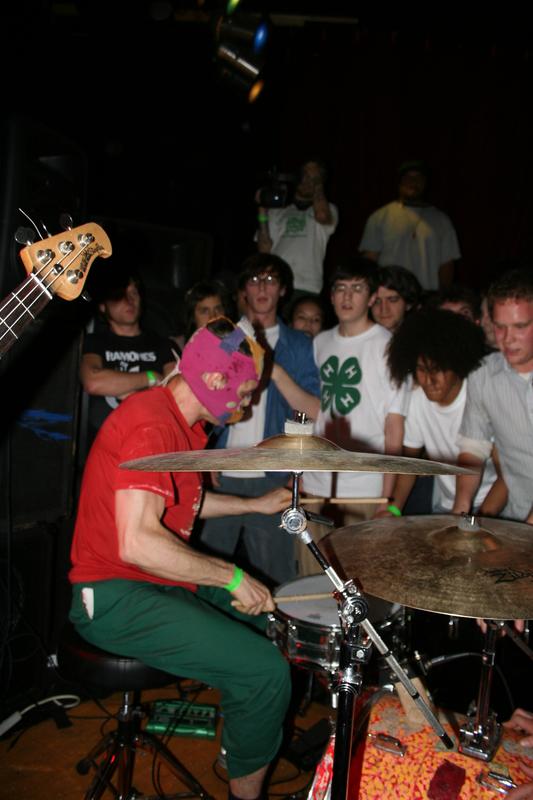 (play it loud)
WEDNESDAY APRIL 4
ACID MOTHERS TEMPLE AND THE MELTING PARAISO UFO (legendary psychedelic band from Japan; also in the "I can't imagine this being anything besides amazing" vein. Come if you want to see 50 year old Japanese guys headbang)
FRIDAY APRIL 15
(aka 2 days after my bday)
ZOLA JESUS (really fantastic atmospheric goth pop from, of all places, central Wisconsin)
If you're a fan of 80s depressive synth goth stuff like the Cure, Siouxsie and the Banshees, etc. you need to come to this. I'm 90% sure I'm going to this even if no one else does. I will be sad and gothy alone if need be.